Entertainment
JULY 15, 2019
WHY JAY-Z IS THE PERFECT CELEBRITY CANNABIS ENTREPRENEUR
The California-based cannabis company trumpeted the news on the homepage of its website, citing common goals between the rapper and the pot brand, like an initiative to hire formerly incarcerated people and a desire to "shape the conversation surrounding cannabis, foster equality and fairness… promote awareness for the many uses and benefits of cannabis and empower consumers to feel free to use cannabis how, when, and where they want," per the press release.
2019 Celebrity Drug Busts
November 14, 2019
A total of 1,654,282 Americans were arrested on drug charges nationally in 2018. Of that total, 663,367 (40%) were for marijuana. That's an increase of less than 1% over the previous year. Meanwhile, celebrity drug busts have been on the decline. Last year, there were 20. So far this year, there have been 18.
***CLICK ON THE BLANK IMAGE TO SEE THE CELEBRITY
Chris Brown in Paris
• Chris Brown - Jan. 22; the troubled R&B singer was arrested in Paris for aggravated rape and drug possession, but no official charges were filed and he was then releaased.
Kyle Chrisley mug shot
• Kyle Chrisley - May 11; the Chrisley Knows Best cast member was arrested for methamphetamine possession in Okmulgee, OK; his father Todd says Kyle suffers from bipolar disorder.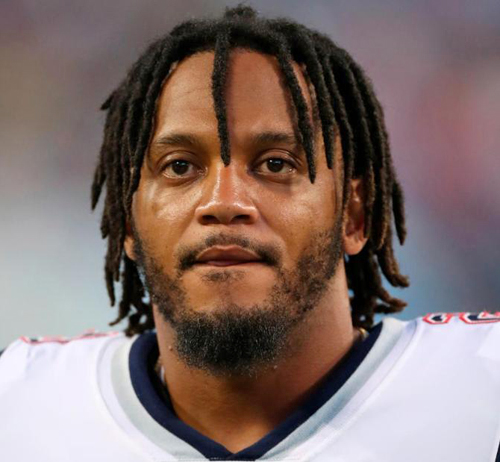 New England Patriots safety Patrick Chung
• Patrick Chung - June 25; the New England Patriots safety was charged with cocaine possession after officers came to his home in Meredith, NH; he was indicted for possession of a controlled drug, a class B felony, on Aug. 22.
Kelvin James Dark mug shot
• Kelvin James Dark - July 12; the Alabama rapper and sports agent was arrested after tossing five kilos of methaphetamine over a balcony in an Atlanta high rise; 13 pounds of marijuana and three weapons were also confiscated in the raid by the Georgia Bureau of Intelligence, which charged him with trafficking methamphetamine, trafficking marijuana and possession of a firearm by a felon.
Greek tycoon Alki David
• Alki David - May 13; in an outrageous stunt, the Greek Coca Cola heir was arrested in St. Kitts after his private jet landed with 5,000 pot plants on board; actor Jonathan Rhys Meyers was also on the plane, but wasn't arrested; David was released on $30,000 bail.
Pop singer Howie Day
• Howie Day - Aug. 24; the pop singer was arrested in New York for assault with intent to cause physical injury, criminal obstruction of breathing and possession of a controlled substance; he allegedly assaulted a woman in a hotel room and possessed illegal Xanax pills; Day paid a $500 bond upon his release.
Former Met and Yankee pitcher Dwight Gooden
• Dwight Gooden - June 7; the former Met and Yankee pitcher was arrested for cocaine possession and DUI in Holmdel, NJ: it was yet another drug arrest for the former Rookie of the Year and All Star, who was previously busted in 2006 and 2010, and failed an MLB drug test in 1987.
Kodak Black mug shot
• Kodak Black (nee Dieuson Octave) - Apr. 18; the Florida rapper was arrested at the U.S./Canada border that crosses over from Niagara and charged with marijuana and gun possession, and intially held at Niagara County Jail; in 2018, he was arrested for showing a gun and smoking pot on Instagram and sentenced to one year in jail.
Cirque de Soleil founder Guy Laliberté
• Guy Laliberté - Nov. 12; the Cirque du Soleil founder was charged in French Polynesia with cultivation, possession and use of marijuana; he owns a private island, Nukutepipi, where the alleged grow operation was based; Laliberté's lawyer says he uses cannabis medically and was released from custody on Nov. 13.
Valerie Mason mug shot
• Valerie Mason - June 23; the former Playboy Playmate was arrested during a traffic stop in Ouachita Parish, LA after she was found in possession of a "controlled dangerous substance" (2 grams of meth); she was released on a $3,000 bond.
NBA YoungBoy mug shot
• NBA YoungBoy (nee Kentrell Gaulden) - Feb. 11; the Louisiana rapper was arrested after a confrontation involving a female associate and a Hyatt House employee in Atlanta; after police responded to a 911 call, he was charged with "disorderly conduct and possession of less than an ounce of marijuana" and taken to the Atlanta City Jail; the rapper was previously convicted and did time for "aggravated assault with a firearm."
Former Virginia Tech forward Ty Outlaw
• Ty Outlaw - March 27; the Virginia Tech senior hoopster was charged with possessing "one white pill, 2 yellow capsules, an electronic vape cartridge and green plant material" after authorities searched his apartment in Blacksburg, VA on March 21.
Daniel Ross mug shot
• Daniel Ross - Nov. 6; the Dallas Cowboys defensive lineup was arrested in Frisco, TX after a traffic during which marijuana and a gun were confiscated; he was charged with "possession of marijuana and unlawful possession of a weapon"; Ross is currently on the team's injured reserve list.
Golden State Warriors guard D'Angelo Russell
• D'Angelo Russell - May 2; the former Brooklyn Net All-Star point guard (he now plays for Golden State) received a summons after TSA at LaGuardia Airport in New York found less than 50 grams of marijuana in an ice tea stash container he was carrying onto a flight.
Walls of Jericho drummer Dustin Schoenhofer
• Dustin Schoenhofer - Oct. 23; the Walls of Jericho drummer's vehicle was pulled over for speeding by Oregon State Police and he was arrested after they found a huge stash of marijuana inside: 632 pounds of dried pot and 36 pounds of cannabis oil; he was booked on six charges and is currently in Klamath County Jail on $45,000 bail.
Actor Ted Sizemore
• Ted Sizemore - Jan. 5; the Hollywood actor with an already lengthy rap sheet was arrested again after a traffic stop in Burbank, CA during which officers found heroin and meth in his vehicle.
Sonja Sohn mug shot
• Sonja Sohn - July 21; the TV actress was arrested after a traffic stop in Manteo, NC for "felony cocaine possession charge, as well as misdemeanor charges of possession of marijuana paraphernalia and drug paraphernalia"; she was released on a $1,500 bond.
Shai Werts mug shot
• Shai Werts - July 31; in the most ridiculous celebrity drug arrest of the year, the Georgia Southern University quarterback was charged with cocaine possession Saluda, SC when an officer determined that a white substance on the hood of his car was a controlled substance, despite the student claiming it was bird poop; the charge was dismissed on Aug. 8 after he was already suspended by his team.
Breakdowns
Total: 18
Musicians: 6
Actors: 3
NFL players: 2
NBA player: 1
NCAA football player : 1
Former MLB player: 1
Former NCAA basketball player: 1
Former Playboy Playmate: 1
Greek tycoon: 1
Cirque de Soleil founder: 1
Male: 16
Female: 2
African-American: 11
White: 7
New York: 3
Georgia: 2
New Jersey: 1
California: 1
North Carolina: 1
South Carolina: 1
New Hampshire: 1
Oregon: 1
Louisiana: 1
Oklahoma: 1